Hard water is a major issue in the US, affecting more than 85% of the country. It's no surprise that water softeners are as popular as they are. But when there are more than 50 water softener variations on Amazon alone, how are you supposed to know which one to buy?
This best water softeners guide will help you with this. I'm an expert in at-home water treatment, having worked in the industry for almost a decade and written published works for the likes of Sawyer Products, WWD Magazine and HowStuffWorks. I know that my 130,000-strong monthly audience is looking for value, and that's what I aim to provide.
To narrow down your search, I've featured just 12 water softeners in this list. After carrying out extensive research, I deemed these to be the best available in terms of softening capabilities, efficiency, quality of build, customer satisfaction, and more. I'm confident that there's the perfect system for everyone on this list, no matter what you're looking for.
By the end of this guide, you will learn:
Which 10 water softeners are worth your money in 2021
The different water softening options you can choose from
What to know when purchasing a water softener for your home
🥇 Best Water Softeners
SpringWell Futuresoft Salt-free Water Softener
SpringWell Salt Based Water Softener System
SoftPro Elite
Filtersmart Salt-Free Water Softener Alternative System
AquaOx WS
Fleck 5600SXT 48K Grains Water Softener
Pelican Advantage Series Salt Water Softener
Aquasana Salt-Free Water Conditioner
US Water Systems GreenWave Salt-free Water Conditioner
Eddy Water Descaler Electronic Water Softener
[table "best-water-softeners-09182021" not found /]

---
⭐ Reviews – Best Water Softener 2021
SpringWell Futuresoft Salt-free Water Softener
My readers get 5% off at springwellwater.com – 👉 Use Code GURU5
The SpringWell FutureSoft is my top choice for the best overall salt-free softening system. The stainless steel system reduces scale-causing minerals with a 12 GPM flow rate and prevents up to 99.6% of scale build-up without the use of chemicals or salt.
Why It's My Top Pick
Increased energy efficiency and longer appliance lifespans make the $1,400 price tag worth the investment
Highly effective at conditioning water, preventing 99.6% scale formation
Backed by a lifetime warranty, so system durability is nothing to worry about
Minimum flow of 12 GPM
Manufactured by SpringWell, a brand with more than 20 years of experience in the industry
This System's Unique Features
As a completely saltless system, the SpringWell FutureSoft uses a process called Template Assisted Crystallization (TAC), which doesn't remove minerals from the water, but converts them into crystals that are unable to adhere to surfaces and leave scale build-up. This softening system doesn't waste water or cause a dip in water pressure in your home, unlike many traditional water softeners.
The components used in this unit are NSF certified, and meet the high standards of performance, reliability and durability. As a manufacturer, SpringWell has operated for more than 20 years, and offers a 6-month money-back guarantee on its water softening products.
The SpringWell FutureSoft uses ActivFlo water technology, which allows the system to operate at all water flow rates, ensuring your household doesn't experience a drop in decreased pressure of water.
Also included in the system is a pre-filter. This pre-filter removes larger sediment and contaminants like copper and silica from water.
Who It's Best For
The SpringWell FutureSoft is ideal for anyone looking for the best water softener that doesn't use salt. If you're on the hunt for an affordable water softening option that's low cost to maintain, and provides almost the same quality of water softening as a salt-based softener, the SpringWell FutureSoft is a water softening solution well worth considering.
Springwell also has one of the top-rated salt-based water softening systems if you're looking for a highly recommended salt system. You can check out their whole house salt system below.
👍 What I Like
No water or electricity waste
DNo water or electricity waste
Doesn't remove minerals from the water so you can still get the health benefits
Easy to install
Low maintenance – needs less salt than competitors
Water flow 12 GPM
My top choice for best overall salt free systems
Best option for eco-friendliness
👎 What I Don't Like
Doesn't remove minerals from the water, which some people may prefer
Can only prevent scale buildup
Softening resin will need to be changed
Read the full review: SpringWell Futuresoft Salt-free Water Softener Review (2021)
---
Springwell Salt Based Water Softener System
My readers get 5% off at springwellwater.com – 👉 Use Code GURU5
The SpringWell Salt-Based Water Softener System is considered one of the most dependable and best ion exchange softeners currently on the market. This salt-based system is designed to completely remove scale-causing minerals from your water.
Why It's a Top Pick
Uses automated regeneration to reduce water waste
Comes with a lifetime warranty and a 6-month money-back satisfaction guarantee
Manufactured by a trusted brand
3 sizes to choose from based on water usage
System Features & Benefits
Using an innovative technology that is much more efficient than others, the SpringWell produces far less water waste by using automatic regeneration, which enables the system to only regenerate when necessary, helping you to save money and reduce your environmental impact.
The innovative Connected Series control head is Bluetooth enabled, allowing you to control the settings of your system from your mobile device. Adjust your backwash, regen cycles and timing with the tap of a button. Also on the app is data about your water usage and how the system is working, including current and historical information.
You won't experience a drop in water pressure with the Springwell salt-based softener. The system is available in 3 sizes:
32K grain capacity (1-3 Bathrooms)
48K grain capacity (4-6 Bathrooms)
80K grain capacity (7+ Bathrooms)
Who It's Best For
The Springwell Salt Water Softener is the best water softener for families of any size looking for an efficient salt-based water softener that won't affect water pressure. If you have a budget of just under $1,300 and prefer to spend your money on a trusted brand, the SpringWell is a great option to consider.
👍 What I Like
FFully softens water
Automated regeneration technology helps reduce costs
6-month money back guarantee
Innovative Bluetooth control
Extremely efficient, wastes less
👎 What I Don't Like
Requires salt top-ups
Installation is complex
Read the full review: Springwell Salt Based Water Softener System Review (2021)
---
SoftPro Elite
The SoftPro Elite is another of the best overall water softener systems that uses salt, and is one of the most affordable and efficient water softeners on the market. The system has a control head that makes it easy to manage with its automatic settings that control how often the unit regenerates and check the system status, and is virtually maintenance free.
Why It's a Top Pick
The system is highly efficient, using up to 50% less salt than a standard salt-based water softener
The SoftPro's resin comes with a lifetime warranty
You can choose from various system sizes, from 24,000 to 110,000 grain
Prices start at less than $1,000, making this a more affordable softening system on the market
Manufactured by Quality Water Treatment, a brand with more than 30 years' experience
System Features & Benefits
Using an efficient upflow regeneration technology, the SoftPro Elite helps save on both salt and water consumption with a more exact resin recharge, which will save you money in the long run. This is powered by next-gen sensors, which allow the system to trigger a quick short demand initiated regeneration cycle outside of the normal scheduled time if the clean resin gets below a 3% threshold.
The SoftPro water softener comes with a user-friendly LCD screen, allowing you to select from a variety of presets including auto refresh, auto-variable backwash, vacation mode & auto reserve.
The crosslink resin the softener uses should last up 20 years.
The SoftPro Elite comes with a limited lifetime warranty on all parts (except those that naturally wear out) and the touchpad controls. The circuit board has warranty of 7 years, the resin has 10 years and the tank softener has a guarantee lifetime warranty.
Who It's Best For
The SoftPro Elite is ideal for anyone looking for a comprehensive softening system at an affordable price. The unit comes in 8 grain capacities, which means there's a system size to suit every family size and water usage.
👍 What I Like
High efficiency upflow regeneration technology – will save you money Good customer High efficiency upflow regeneration technology – will save you money Good customer service
Control head is simple to use
Reasonable price point compared to similar systems
NSF/ ANSI 44 & 61 certified
Only uses 2-3 bags of salt every 1 year
👎 What I Don't Like
There is no base model
Requires salt top-ups
Needs electricity connection
Read the full review: SoftPro Elite Reivew (2021)
---
Filtersmart Salt-Free Water Softener Alternative System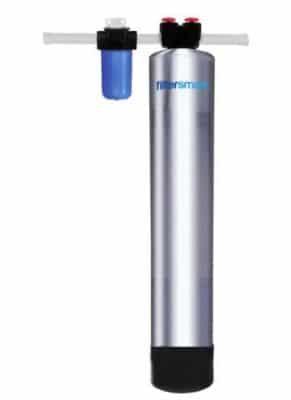 The Filtersmart is a salt-free softening system that safely and naturally reduces scale buildup without the use of salt. This system is available in two sizes: 1-3 bathrooms or 12 GPM, or 4-6 bathrooms or 15 GPM.
Why It Made the List
Comes with a lifetime warranty on tanks and valves
Simple to install; requires only basic plumbing
Offers a water flow of at least 12 GPM, or you can opt for 15 GPM for larger homes
Offered by an up-and-coming water treatment manufacturer with many promising reviews already
System Features & Benefits
The Filtersmart Salt-Free Softener uses TAC, or template-assisted crystallization, to prevent scale formation. TAC transforms magnesium and calcium ions into nanocrystals, which are suspended and unable to stick to surfaces. The conditioner doesn't add salt to water, and retains healthy minerals, while eliminating hard water side-effects.
Regardless of your water's hardness level, the Filtersmart has an efficient 5-second contact time with water, compared to ion exchange, which requires up to 90 seconds of softening time. With an upflow design, the system creates no waste from backwashing, and can be used in states where water softeners are not allowed.
A lifetime warranty covers the system's tanks and valves, and Filtersmart offers a 100% money-back guarantee, so you have nothing to lose from trying the system out.
The Filtersmart system also comes with a free sediment filter, which removes fine sediment that could clog the softener and affect its lifespan. This filter should be changed after every 8-10 months of use.
Who It's Best For
If you'd prefer an efficient, affordable, salt-free softening unit, the Filtersmart softener is a good choice. This unit is especially suited to anyone looking for a softener with a much faster performance than an average salt-based unit.
👍 What I Like
Doesn't waste electricity, salt or water
Comes with a sediment filter
Lifetime warranty on tanks and valves
Up-and-coming manufacturer
Much faster softening performance than salt-based systems
👎 What I Don't Like
Needs a steady source of electricity to function
Filtersmart doesn't have the industry experience of bigger brands
Unit isn't the cheapest compared to some on this list
Not the easiest to install
---
AquaOx WS
The AquaOx WS is a top-of-the-line ion exchange stainless steel softening unit is designed to get rid of calcium and other hard water minerals. This system completely softens water, in addition to providing descaling benefits for your pipes and appliances.
Why It's a Top Pick
Removes calcium from water; doesn't just prevent limescale
Lets you set your water hardness level and schedule regeneration manually
Upflow technology minimizes salt and water use
Backed by a 10-year warranty and 1-year money-back guarantee
System Features & Benefits
With its innovative digital on demand control touch screen, the AquaOx softener lets you set your water hardness level, check the water softening system status, look for error codes and schedule regeneration cycles. This featured combined with the high quality resin and up flow technology help to reduce the amount of salt and water the system uses.
Installed at your central water line, the AquaOX WS is a whole house softener for well water that provides the benefits of soft water to all appliances and faucets in your house. To ensure you get the most of your money the AquaOX water system comes with a warranty of 10 years and a 12-month money back guarantee.
Who It's Best For
If you've got a bit more cash to spend on a bigger upfront purchase and you like the idea of a system that can remove hardness minerals entirely, the AquaOx WS is a good option for you.
👍 What I Like
EEasy to operate and install
Touch screen control
Can set the hardness level your prefer
12-month guarantee & decade-longhardnes warranty
15 gallons per minute – more than 20,000 gallons per day
One of the best overall based salt systems
👎 What I Don't Like
Needs a steady source of electricity to function
Expensive upfront cost
Requires you to add salt
Read the full review: AquaOx WS Water Softener Review
---
Fleck 5600SXT
The Fleck 5600SXT Digital Control 24-64,000 Grain Water Softener is a whole house water softening system that uses a highly efficient ion exchange process to remove hard-causing minerals from the water.
Why It's a Top Pick
One of the most affordable systems on this list
You'll struggle to find a better-performing softener system for the price
You get a 10-year warranty with the tank, and a 5-year warranty with the valve
Customers are generally very impressed with the unit's quality
It comes in a range of sizes – from 24,000-64,000 grains
System Features & Benefits
Loaded with resin in the mineral tank and partially pre-assembled, the fleck water softener is designed to be easy to install. You can set up the Fleck 5600SXT softener without the help of a professional plumber or handyman.
The Fleck's advanced water flow meter comes with a fully programmable control valve, and the system doesn't regenerate until it needs to, which helps cut down on wastewater and money spent on salt.
Included with this ion exchange system are a 1. 5 cubic feet high capacity resin, 48, 000 grain water softener (10X54) tank, 15x17x36 salt brine tank with safety float. For peace of mind, the Fleck 5600sxt system comes with a warranty of 5 years on the unit's bypass demand metered control valve and 10 years on the salt and brine tanks.
Who It's Best For
If you're looking for a more affordable whole house water softener, the Fleck 5600sxt is one of the most suitable water softening systems available. Its lower-end price range and high-quality performance makes the Fleck ideal for first-time water softener owners who don't want to invest in anything too expensive.
👍 What I Like
Smart control reduces water wastage
Smart control reduces water waste
Good customer service
Up to 64,000 grain capacity makes it ideal for entire house use
Comes with resin already in the tank
Top pick for an affordable option & good warranty of 5 years
👎 What I Don't Like
Not as easy to install as alternatives
Water is wasted during the regeneration process
Requires scheduled maintenance, cleaning & sodium top-ups
Read the full review: Fleck 5600SXT 48K Grains Water Softener Review
---
Pelican Advantage Series Salt Water Softener
Providing softened water with the use of salt or potassium, the Pelican Advantage Series is a metered water softener that only backwashes when required, helping you to waste as few gallons of water as possible.
Why It's a Top Pick
Comes with a 7-year warranty on tanks, and a limited lifetime warranty on the control head
Offered by Pelican, a trusted manufacturer with years of industry experience
Electronic controls make the unit easy to use and program
Comes in two different capacities, for homes with 1-3 bathrooms and 4-6 bathrooms
System Features & Benefits
The Pelican Advantage Series is a classic whole house water softener that features a brine tank and a resin tank. The system uses an electronic control box that's easy to operate, with three modes to choose from.
With a double backwash feature, the Pelican optimizes system regeneration, and there are 36 regeneration cycles to choose from – giving you greater control over the system's performance and efficiency.
The Pelican has a battery backup that lasts for up to 8 hours in the case of a power outage. The system comes with a bypass valve, which is handy for diverting water away during salt top-ups and other maintenance.
Who It's Best For
Anyone looking for a traditional whole house water softener that uses salt or potassium to soften water should consider the Pelican Advantage Series. It's a little pricier, so you'll need to have a bigger budget for this one.
👍 What I Like
Uses no electricity & wastes no water
High-capacity resin
Electronic head is easy to program
Includes standard bypass and chrome tank jacket
Quiet and efficient performance
From Pelican Water, a trusted manufacturer
👎 What I Don't Like
If your water is too hard, you may not get the results you want
One of the more expensive softeners on this list
Pelican's customer service could be better
---
Aquasana Salt-Free Water Conditioner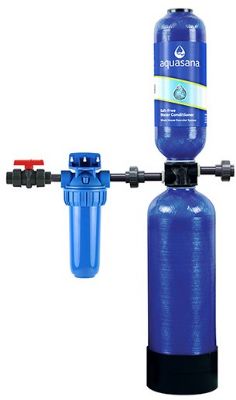 The Aquasana is a whole-house descaler that uses NAC (nucleation assisted crystallization) technology to naturally condition water, reducing its ability to form scale. The system doesn't add or remove anything from your water, and doesn't require salt.
Why It Made the List
Comes with a 5-micron sediment filter that protects the conditioner and increases its lifespan
For its cheaper price, offers an efficient, penny-saving performance
Manufactured by Aquasana, a trusted water softening industry expert
Comes with a 6-year warranty and 90-day money-back guarantee
System Features & Benefits
The Aquasana Salt-Free conditioner uses an NAC media to alter the structure of calcium and magnesium minerals, preventing them from sticking to surfaces and forming scale. Aquasana says this method is capable of reducing up to 99.6% scale.
Because this system doesn't replace magnesium, calcium and other hardness minerals with salt, your water's TDS levels won't be affected by using the Aquasana. You get up to 6 years of water softening from the Aquasana before the NAC media needs replacing, and the unit has a flexible operating pressure of between 20 and 100 PSI.
Like many conditioners, the Aquasana isn't designed for very hard water. It can handle water hardness up to 25 grains per gallon, but it works best with hardness below 15 GPG. It has a flow of between 7 and 10 gallons per minute, which is more than enough for small families of up to 3 people.
Who It's Best For
If you have relatively hard water, the Aquasana is a good choice for you. The system is also well suited to people who don't want to add anything to their water, but still want the benefits of scale reduction.
👍 What I Like
Retains healthy minerals
Comes with a 90-day satisfaction guarantee
6-year limited warranty
Good flow rate
Reduces scale up to 99.6%
👎 What I Don't Like
Only suitable for up to 25 GPG of hardness
Warranty only valid with professional installation
Not as effective as salt-based systems
---
US Water Systems GreenWave Salt-free Water Conditioner
The US Water Systems GreenWave Salt-Free Conditioner is an eco-friendly softening alternative that uses no salt and provides a highly efficient performance. Using no electricity and wasting no water, this water conditioner is well worth considering if you're not keen on the energy and wastewater costs of owning a water softener.
Why It's a Top Pick
Very effective for a water conditioner – can prevent up to 97% scale
An eco-friendly system that produces no water waste and requires no salt
Conditioning media is durable, lasting up to 6 years
Comes with a good warranty on the tank and assembly; a four-year warranty on the conditioning media
System Features & Benefits
The GreenWave uses a conditioning technique known as Nucleation Assisted Crystallization, or NAC for short. This process transforms hardness minerals into microscopic crystals that are effectively inactivated – they remain suspended in water and are unable to stick to surfaces as scale.
With a 97% effectiveness rating, the GreenWave's performance is about as good as it gets for a water conditioner. Because you don't need to connect it up to a drain line and there's just one tank to deal with, installation is relatively straightforward and you may be able to do the job yourself.
Maintenance is a breeze, too – there's no salt to top up; you'll just need to replace the media every few years (though there isn't a specified period of time for changing the media, the warranty covers it for 4 years, so you should get a minimum of this long out of it).
Who It's Best For
Whether you live in a region where water softeners are banned or you're tired of salt top-ups, the GreenWave is a system worth considering for smaller households with a less demanding hard water issue. Choose between 10-25 GPM flow rates to suit your home's size and water pressure.
👍 What I Like
Uses no electricity & wastes no water
Easy to install
No salt required
Eco-friendly product
Max hardness 81 GPG
👎 What I Don't Like
Though very effective, still not as effective as a salt-based softener
Relatively new product – few customer reviews to go off
Pre-filter not included
---
Eddy Water Descaler Electronic Water Softener
The Eddy Electronic Water Descaler is a no-salt descaler that gives soft water benefits without changing the hardness. It retains hardness minerals in your water supply, while preventing limescale and other hard water issues.
Why It's a Top Pick
It's very affordable, making it a good option for people who simply don't have the money to spend on a water softener, or can't justify the investment
Installation of the Eddy is easy, as it doesn't feature tanks or barrels
You don't need to top up the Eddy with salt or resin, and maintenance is limited
The unit comes with a lifetime warranty with no limitations on repairs
System Features & Benefits
The Eddy magnetic descaler works by sending an electro-magnetic wave through two coils that surround your incoming water supply pipe. The water that passes through the pipe is subjected to a magnetic field from the coils, which alters the structure of the limescale-causing minerals to prevent mineral buildup on your clean surfaces, and inside pipework and appliances.
The Eddy requires little to no maintenance when compared to a salt-based softener. There are no tanks to clean, no sodium to top up, and no chance of clogging or blockages with this electronic descaler. Once you've installed the conditioner, your work is essentially done.
Who It's Best For
If you have a smaller household with up to three people, the Eddy is a conditioning unit to consider. There's no point in spending money on a large, full softening unit for a bigger home if your water use is low. This descaler can do a good job on your water if its hardness is less than 25 GPG.
👍 What I Like
Small, compact size
Low cost to run
Does not require maintenance, salt top-ups, or cleaning
Best option for retaining benefits of beneficial minerals
👎 What I Don't Like
Does not alterDoes not alter pH of water
Does not work with older pipes made of iron or lead
Not ideal for areas with water hardness over 20 GPG (grains per gallon)
Read the full review: Eddy Electronic Water Descaler Review
---
📊 Best Water Softeners Comparison Chart
Product
System Type
Grain Capacity or Max Hardness
Flow Rate (GPM)
Warranty
Relative Price
Springwell Futuresoft
Salt-Free
81 GPG
11 - 20
Lifetime for valves
10 years for tanks
7 years for electronic head
$$$
SpringWell Salt Based Water Softener System
Salt-Based
32K - 80K
11 - 20
Lifetime for valves
10 years for tanks
7 years for electronic head
$$$
SoftPro Elite
Salt-Based
24K - 110K
10 - 32
Limited lifetime for valves
Lifetime for tanks
7 years for circuit board
$$$
Filtersmart Salt-Free Water Softener Alternative System
Salt-Free
75 GPG
12 - 15
Lifetime for valves
Lifetime for tanks
$$$
AquaOx WS Water Softener
Salt-Based
64K
16
10 years
$$$$
Fleck 5600 SXT
Salt-Based
24K - 80K
7 - 15
5 years for valves
10 years for tank
$$
🧾 Water Softener System Buyer's Guide (2021)
With the plethora of new water softener systems available, it can be overwhelming even knowing where to start.
I've put together the following water softener system buyer's guide to help you learn everything you need to know about how water softeners work and how to select one for your specific needs.
💡 What Is A Water Softener?
A water softener is a type of water conditioning system that removes minerals like calcium & magnesium from water. These minerals are what make water "hard", and can have an effect on the quality of water produced.
A lot of people prefer not to drink even moderately hard water, or to control the mineral content of their own water. This is where water softeners become useful.
🤔 Why Do I Need a Water Softener Anyway?
Water softeners work to reduce, alter, or eliminate hard water minerals. Hard water can cause all sorts of irritating hard water problems such as limescale, water spots, and reduce appliance efficiency. You may need a water softening unit if your water hardness levels are particularly high.
💦 What is Hard Water?
Hard water is a term used to refer to water that has a high mineral level. While it is technically considered clean water, hardness can cause a number of issues for homes and businesses, which is why water softening – removing these minerals from the water – now exists.
Minerals Found in Hard Water
Typically, minerals include calcium, magnesium, iron, and aluminum. Hard water may also contain traces of other minerals, depending on location and water supply.
The higher the calcium and magnesium content of the water, the harder it is. While hard water is perfectly safe to drink, even moderately hard water can lead to inconvenience and inflate water bill prices.
It's is formed when water passes through lime, chalk and gypsum deposits, which naturally contain traces of magnesium, calcium, iron and aluminum.
The water comes into contact with these hard minerals while still in its natural environment, in lakes, rivers and groundwater. These minerals are not removed during the municipal water treatment process. You can perform a water test to identify how hard your water is.
Magnesium and Calcium Ions
Most of us know magnesium and calcium as essential minerals for our health – but how do they affect our water?
Magnesium and calcium are responsible for the indications of hard water you might notice around your home, like film over shower doors and bathtubs, reduced appliance efficiency, and spots on glasses and dishware that have been washed.
Iron
Although not present in water in significantly high quantities, iron can be of a particular nuisance to home and business owners when it gets into appliances.
Drinking water containing iron isn't bad for your health – in fact, it's essential for many important bodily functions – but when used in cooking, iron may contaminate foods with an unpleasant metallic taste. The biggest issue with iron water is the rust-like stains it can leave on surfaces like bathtubs and sinks. These stains are hard to take care of and can even get onto tableware and laundry.
Aluminum
Unlike the other hard water minerals, aluminum is not required for our health, and exposure to too much aluminum can be harmful.
While we can quite easily absorb aluminum from water, problems arise when there are significantly higher levels of aluminum in water than normal.
How Hardness is Measured
Typically, hardness is measured in concentrations of these minerals in milligrams per liter (mg/L) which is the same as parts per million (PPM), or grains per gallon (GPG).
1 GPG = 17.1 mg/L = 17.1 PPM
| Hardness Classification | Grains/ gallon | mG/L or PPM |
| --- | --- | --- |
| Soft | < 1 | < 17.1 |
| Slightly Hard | 1 - 3.5 | 17. - 60 |
| Moderately Hard | 3.5 - 7 | 60 - 120 |
| Hard | 7 - 10 | 120 - 180 |
| Very Hard | > 10 | >180 |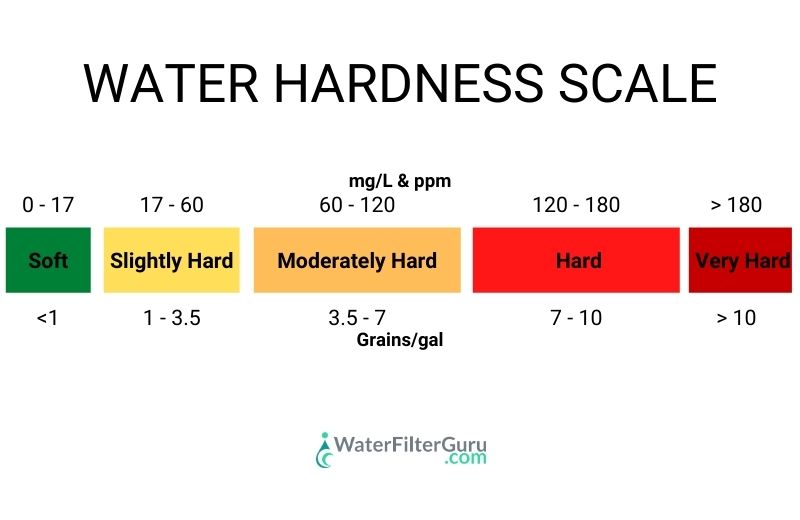 ⚠️ Issues Caused by Hard Water
Using hard water in your home can cause a number of inconveniences that may negatively impact your health, the aesthetics or functionality of water-based appliances, and the smell, appearance and texture of items that come into contact with your hard water.
Hair & Skin
A higher mineral deposits content in water has been found to make hair less pliable and more difficult to style after a wash. It can also cause hair dye to fade faster, and a high level of calcium ions in water can even change the color of dye.
When you wash with hard water, hard water residue deposits a film that clogs pores, leading to breakouts and aggravating skin conditions like eczema and acne. Hard water can also strip the moisture from the surface of the skin, leading to dryness and irritation.
Dishes
You might notice that when you've washed your dishes in hard water, instead of looking clean and clear, they're coated with a white, cloudy residue from the minerals in the water that are left behind on their surface.
Limescale
Limescale can build up over time in places where hard water is present, and once you've got a limescale problem, it tends to stick – literally. Pipes and other behind-the-scenes areas of appliances are trickier to remove limescale from.
Faucets and Pipes
In particular, limescale deposits from hard water can damage your plumbing. The damage goes far beyond the kitchen and bathroom features we can see. Water passing through the pipes is dragged back by the limescale, reducing water flow.
Sulfur Smell
Perhaps the least appealing aspect of a certain type of water is a rotten egg smell, which is produced by an increased hydrogen sulfide content in the water. You won't get sick from ingesting water with an unpleasant sulfur smell – it's more of a nuisance, and you may end up spending more on bottled alternatives as a result.
Appliances
Over time, hard water running through your home's appliances will start to cause damage. Your dishwasher may clean your dishes less effectively if it's using hard water. In addition, limescale can wear your dishwasher's components down over time, leading to decreased performance, eventually causing them to break down.
In the bathroom, while the minerals in the water might be more noticeable on your faucets and showerheads and in your bathtub, a build-up of scale in the toilet can cause the most long-term damage.
Reduced Water Heater Efficiency
A build-up of hard water sediment in your gas water heaters can affect their performance efficiency. The layer of limescale at the bottom of the tank acts as insulation, preventing water heaters from heating water up as quickly, requiring it to stay on for longer.
Laundry
To clean your clothes properly, you'll need to use almost twice the amount of detergent in a machine that uses hard water, compared to one that uses soft water.
If your towels and bedding feel hard and scratchy to the touch, this is again most likely caused by hard water.
✔️ Benefits of a Water Softening System
Using one of the best water softeners to soften your water is the simplest way to eliminate hard water issues and enjoy a whole host of household benefits. Below are some of the key benefits of water softening systems.
Appliance Longevity
One practical reason to consider a water softening unit is to extend the life of your water-based appliances.
The best-buy water softener systems can remove up to 99.9% of all hard water minerals from as many gallons of water that you use on a daily basis, thus preventing the common hard water issues that can lead to the deterioration of an appliance.
Water Heating Efficiency
By removing limescale taking up tank water softener space and acting as insulation, your water heaters can more quickly and efficiently heat up water, helping you to cut down on heating bills.
Water Flow Rate
Softened water contains no calcium minerals that typically cause limescale. For this reason, it won't leave a scale deposit on pipes that might slow down water flow.
More Efficient Cleaning
Soft water lathers with soap much more easily, which means when you're hand-washing your dishes, you'll need less cleaning liquid to do the same top-quality job. You can save money on expensive powders and detergents for your washing machines, because you'll be able to use fewer cleaners (and even fewer gallons of water) to get the same results.
Lime/ Stain-free Surfaces
With a water softener, you'll save yourself hours of cleaning limescale deposits from surfaces that come into contact with your tap water.
Skin and Hair
Soft water balances your hair's pH, helping it to maintain its moisture and smoothness. With one of the best water softeners, you'll also be able to wash your hair more effectively.
Soft water is beneficial to the skin for similar reasons – the sudsy lather that the water forms when it comes into contact with soap helps to give skin and hair a better rinse and washes off more thoroughly with water.
⚙️ How Do Water Softeners Work?
Tthere are a number of different whole-house water softener variations available on today's market, easy using different components and techniques to remove calcium, magnesium and other minerals from water.
Related: How ion exchange water softeners work
🔡 What Are the Different Types of Water Softeners?
We can choose between a wide range of types of water softeners on today's market – namely salt-based water softeners and water conditioners – to meet our water needs.
| | Water Softener | Water Conditioner | Electronic/ Magnetic Descaler |
| --- | --- | --- | --- |
| Technology | Ion Exchange | Template Assisted Crystalization (TAC) | Electromagnetic Waves |
| Completely Removes Minerals | ✔️ | ❌ | ❌ |
| Produces Wastewater | ✔️ | ❌ | ❌ |
| Requires Electricity | ✔️ | ❌ | ✔️ |
| Average Price | $800 - $1,500 | $1,200 - $2,500 | $250 - 500 |
| Maintenance Requirement | Every 6 - 8 weeks | Every 6 - 12 years | None |
Salt Based Ion Exchange Water Softeners
One of the common methods of softening water takes place in an ion exchange system, where calcium and magnesium are removed from the water, replaced by a sodium (salt) ion.
Salt water softeners (called Ion Exchange Softeners) contain resin beads, which have a negative charge. The magnesium and calcium minerals in hard water have a positive charge, and because opposites attract, they move towards and pass through the resin beads, where ion exchange takes place.
Pros:
Strips all hardness out of the water, leaving absolutely no magnesium and calcium minerals behind.
Many salt water softeners are NSF/ANSI certified
Salt based softeners offer a wider range of benefits aside from just reducing the build-up of scale on water-based appliances.
Cons:
Salt based water softening tends to be more costly because of its efficiency in removing minerals from water.
Not everyone wants to add salt into their water, even in small amounts, which you have to do with a salt based water softener.
May result in more maintenance than a water conditioner that does not use salt.
Salt-free Water Conditioners
Unlike salt-based softener systems, the best salt-free water softeners use something called a template assisted crystallization (TAC) media that changes the composition of the ions so that they're no longer capable of depositing limescale onto a surface. Salt-free water softeners descale water instead of softening it.
Pros:
Because the scale-causing minerals are not actually removed from water, you can still benefit from the nutritional value of these minerals
Tend to be lower-priced
Don't usually require in-depth installation or maintenance & comes with everything you need to get started.
The best salt-free softener uses less electricity, is more environmentally friendly, and is suitable for a person on a low salt diet.
Cons:
You may still notice issues with skin and hair, laundry, etc.
Cannot be used with well water sources
Don't work well in areas where water hardness is higher than 75 grains per gallon.
Electronic/ Magnetic Water Descalers
Magnetic water descalers are water softening systems that offer a chemical-free water softening process. A powerful magnet on the outside of the system alters the magnesium and calcium ions in your hard water when it passes through the strong magnetic field, softening the water before it enters a household plumbing system.
Magnetic water descalers are most efficient in preventing the build-up of scale, and you'll still be able to benefit from the nutritional aspects of minerals in water.
Salt Based Softeners vs Salt-Free Water Conditioners
Salt-based softeners and salt-free water descalers offer largely the same result: soft water. However, the water produced by a salt-free conditioner isn't technically "soft". It still contains magnesium and calcium minerals; these minerals are unable to form scale as they have been crystallized. The water produced by a salt-based water softening system, on the other hand, has had its calcium and magnesium minerals removed, so is actually "soft".
You can check out my comparison guide on water softeners vs saltless conditioners if you're keen to learn which is best for you.
Product Variations
Dual Tank Water Softeners
A dual tank softener, otherwise known as a twin tank water softener, is a popular water softening solution for homes and businesses.
Dual tank water softener models are considered better than single tank softeners because they consist of 2 resin tanks and one tank for salt, for water and salt. Dual tank water softeners are particularly useful because they allow for a higher water capacity.
When water runs out of one tank, the dual tank system automatically switches over to the second tank, preventing a lag in water production.
Portable Water Softeners
Whether you need softened water for your RV, boat, spa, or anything else that might require water softening, you'll be able to use portable water softeners to provide the results you're after.
Usually, portable water softeners are smaller versions of single tank salt-based softeners.
Combination Water Softeners
For hard water that contains high quantities or iron, combination water softeners can filter out iron, magnesium and calcium particles using a softening process in just one system.
They are particularly useful for treating water that contains ferrous iron, which commonly causes rust stains. A fine mesh resin is used to trap ferrous iron, while a dedicated iron filter removes ferric iron.
Does Reverse Osmosis Remove Hard Water?
Reverse osmosis systems are capable of removing almost every impurity from water, and that includes magnesium and calcium minerals. However, it's not a wise idea to install a reverse osmosis system if you're dealing with anything more than moderately hard water.
High water hardness can damage the reverse osmosis membrane and shorten its lifespan.
💲 Average Cost by System Type
| Type of Softener | Average Price Range |
| --- | --- |
| Salt-based Ion Exchange | $800 - $1,500 |
| Salt-free Conditioners | $500 - $2,800 |
| Electronic/ Magnetic Descalers | $75 - $300 |
❗️ Important Considerations When Selecting a System
There are a number of important features you'll need to keep in mind if you're choosing between water softening systems for your home or business:
Technology Type
There are a variety of different technology types that can be used to soften water.
For instance, the best water softener for you may be a salt-based system if your water is very hard and you would rather remove all mineral ions from your water. Equally, you might not want to remove these ions, but only change their form to prevent them from producing limescale buildup, for which you might prefer one of the best salt-free softeners.
Grain Capacity
Water softeners on the market today vary in grain capacities from model to model. The average family will use around 3, 000 grains per day. That means you'll get around 1,960 days – or 6 years – out of a 64, 000 grain water softener. Some systems have a bigger grain capacity than this; some have a smaller one.
Resin Crosslink Percentage & Durability
All water softener resins have a crosslink percentage rating. The higher the percentage, the more durable the resin is. Most water softener resins have a resin crosslink percentage of 8%. You can also find 10% crosslink resin, and because this lasts longer, it tends to be more expensive.
While 8% resin usually lasts for between 10 and 12 years, 10% resin can last for much longer, usually up to 20 years.
Many water softener manufacturers now offer 10% crosslink resin as an optional add-on to your purchase. If you want to avoid changing your resin for as long as possible, I recommend spending a little extra upfront on a 10% crosslink resin for your unit.
Flow Rate
The average water softener flow is between 7 and 12 GPM. However, flow rate varies depending on the capacity of the system. The larger the capacity, the higher the flow rate, equipping the softener to provide a sufficient flow of water to homes of all sizes.
It's important to choose the right flow for your house size and your water usage. For most families, a flow rate of up to 12 GPM is sufficient. However, if you're looking to install a water softener for a bigger home or an office, make sure the unit provides the right flow for the job.
Regeneration Method
If your water softener needs to regenerate, it's worth looking into the various regeneration methods available when choosing a system.
Metered – Metered regeneration is the more efficient regeneration option, as it is triggered by water usage. You'll be required to input your water hardness and the size of your home when setting the softener up, and the system will calculate how much water it can soften before it runs out of salt and needs to regenerate.
Timed – A system that uses timed regeneration regenerates at a specific time every week. Typically, timed regeneration takes place when water isn't generally needed, e.g. 2 am. The advantage of this type of regeneration is that you'll never be without soft water, as you'll know that your softener only regenerates overnight. However, this programming can also result in more water and salt waste, as your softener will most likely regenerate before it needs to.
Manual – Manual regeneration enables you to program your own regeneration cycle timings. This can be much more convenient, as you have full control over exactly when your softener is out of operation. Be aware, however, that manually regenerating your system doesn't mean that you can aim to program a regeneration as sparsely as possible. Water softeners need to regenerate frequently to avoid a buildup of mold and bacteria in the resin tank.
Installation & Maintenance Costs
Technology type can also affect the initial costs and long-term maintenance of a water softener.
Generally, salt based water softeners are more expensive to purchase than salt free softeners, and upkeep can also cost a little more. Your budget might have a bigger impact on your purchasing decisions than you realize.
Area Available to House the Unit
With varying capacity comes varying unit size. Once you've determined a location to store your water softener, you'll need to make some careful measurements of the available space, and match this up to the water softeners you're considering purchasing.
Related: Best water softening systems to install outdoors
Bypass Valve
A bypass valve is used to switch off water supply to your water softener, while still allowing water to flow through your home's pipes and into your appliances. You might need a water softener bypass valve to allow you to cut off water while you're carrying out maintenance on your water softener.
Most softeners come with a bypass valve. If a bypass valve isn't included in your purchase, look online to see if you can find one that will fit.
Certifications
The best-buy water softeners for home and business use should be certified by one of two independent organizations: the Water Quality Association or NSF International. While certification is not a legal requirement, it generally looks good for a manufacturer to successfully certify a product they're selling to remove iron and/or hard water minerals.
Salt based water softeners can achieve WQA or NSF International certification, but because water conditioners don't actually remove iron, magnesium or calcium ions from water, it's far more difficult to test their credibility.
Initial Price
Most water softeners, whether they're salt-based or saltless, are priced around the $1,000-$1,300 mark. The bigger the system's capacity (i.e. the more soft water it can provide at once), the more expensive it will be.
I recommend setting aside at least $650 for the initial cost of a water softener. Anything cheaper than this, and you risk paying for something that doesn't live up to expectations. While lesser-known manufacturers may price their systems $200 or so less than the top brands for the sake of competition, anything lower than $650 is a red flag – and an indication that the quality probably isn't there.
Local Regulations
Something that can be easy to forget to check is whether your state has its own regulations and plumbing codes for water softeners. Make sure that ta system's regeneration drain water meets requirements, and ensure that maintenance and installation processes are also in line with these requirements.
If you're unsure about your area's regulations, reach out to a local plumber, who can offer advice and ensure your softener for you, making sure you're compliant with plumbing codes
🛠 How to Install Your Water Softener
Step-by-step Process – Salt Based
If you haven't purchased a water softener yet and you're curious to learn more about installation, I've outlined the step-by-step process for a salt-based water softener installation below:
Find the best location for your water softener in your home or business. Ideally, you're looking to install it as close to the water's entry point into your home as possible.
Check that your water's incoming pressure is between 40 and 70 PSI, at a minimum of 30 PSI and a maximum of 120 PSI.
Turn off your main water supply, and drain water from your pipes. You can do this by opening a bypass valve at the lowest point in your home.
Turn off your water heaters. Ensure the power leading to the heaters is also switched off.
Use a pipe cutter to cut into the main line where you want to position your water softener.
Install an elbow fitting to feed water from the pipe into your filter. At this stage, if you're using a bypass valve to divert water around the filter during maintenance, the elbow fitting will allow you to do this.
Use the compression fittings that come with the unit to attach the elbow fitting to your system.
Attach the hose to the unit and clamp it in place. Check that it feeds to where water will drain, such as a sink or floor drain.
Attach the overflow tube to the salt or brine tank. You'll need to look at your product's specific instructions to know exactly how to place this.
Adjust your bypass valve to the bypass position and flush it with the recommended amount of water. This will remove any sediment that may be lingering inside.
Plug in your unit and return the valve to the backwash position. Slowly open the valve, allowing water to pass through bit-by-bit while freeing air from the pipes. You'll then need to flush your system as per your manufacturer's instructions. After this, you should have access to softened water.
Step-by-step Process – Water Conditioner
The installation process for a salt-free water conditioner is slightly different, based on the different components that make up this water softener alternative.
As there are a number of varying products and models, I'll just focus on the magnetic salt-free water softeners for this guide.
Follow these steps to install a magnetic water softener:
Locate an appropriate area of your mains water pipe, as close to the point of entry into your home as possible, to locate your magnetic water softener. Take care to keep your magnetic units apart prior to installation, as they are extremely strong, and you'll have an incredibly hard time pulling them apart if they come together.
Remove the wing nuts from the backs of the magnetic units and split each unit into two.
Separate the halves of each unit and set them at least 8 inches apart. Be aware that they can jump together from surprisingly wide distances apart!
Place the unit halves over and around the pipe, and slowly lower them together until they're touching the pipe.
Replace the wing nuts and tighten them with your fingers to lock the units in place. Test your magnetic water softener to check everything's working.
🔧 Maintaining Your Water Softener
Salt based water softeners require simple maintenance to keep them working efficiently and help increase their lifespans. If you're using a water softener and your soft water doesn't seem to be flowing like usual, here are a few basic tasks you can perform to improve the situation:
Clean Out Your Brine Tank
Clean Out Your Resin Bed
Clean the Resin Tank Injector
For an in-depth explanation, check out my full guide on water softener maintenance here.
❔ Frequently Asked Questions
How much salt does a salt-based softener added to water?
If you're put off the idea of a salt based softener because you don't like the thought of adding sodium ions to your drinking water, don't be too worried – you'll never end up drinking an unhealthy amount of salt, because the system works sensibly, and won't add anywhere near that much.
You can expect the best salt-based water softener to add between 20 and 40 milligrams of salt to your water.
To put this into context, a single slice of white bread contains around 700 milligrams of salt. Unless you're on a low sodium diet, your health won't be affected by this relatively small addition of salt into your water.
Does my water bill increase with the use of a water softener?
Yes, installing a water softener in your home means you'll need to pay a slightly higher water bill as a result. To continue to work properly, your water softener will need to flush out the calcium and magnesium ions that have built up in the resin tank from time to time, wasting water in the process.
The harder your water is, and the more magnesium and calcium ions it contains, the more often your resin chamber will need to be flushed out to prevent sediment build-up.
When should I use a water softener?
Looking at water softener uses, its main purpose is to soften water. How and why you may use a softener is up to you.
Perhaps you only want soft water for showering or for drinking. Maybe you home's water is relatively soft but you need to soften water in your RV or at a campsite. Or maybe you're keen to use a water softener for well water.
The choice is yours.
When you use water softeners, your intentions for your appliance should determine which model you purchase. You'll need a high-capacity, reliable system for whole home water softening, whereas the likes of portable softeners and showerhead softeners are more appropriate for occasional use.
Where are water softeners installed?
In most cases, you'll need to look at installing a water softener as close to your incoming water supply as possible.
You want to intercept the water before it can flow into any of your home's appliances, so that every appliance in the house can benefit from your soft water. It's especially important to install a water softener before water reaches your heater, as hot water can damage the components that make up the system.
What is the difference between a water softener and descaler?
Water softeners and descalers have the same water softener uses, but they're different in how they work. While a water softener removes calcium and magnesium ions, replacing them with sodium, a descaler doesn't actually take these ions away. Instead, descalers alter the composition of the hard water-causing minerals, rendering them incapable of producing limescale buildup.
This means that while your drinking water will still contain calcium and magnesium, these ions will be unable to deposit scale in your piping and water-based appliances.
Why does my water softener smell bad?
There are a number of reasons why when you use water softeners, your system might start to smell bad after a while of use. Most commonly, if you notice a rotten egg smell coming from your water softener, it's because sulfur bacteria has built up inside your brine tank.
This bacteria is attracted to the sodium in the brine tank, and releases hydrogen sulfide – the cause of the rotten egg odor. You can take care of this issue by thoroughly cleaning your brine tank out regularly.
Additionally, if your incoming water contains a high iron content, you may notice a rust-like smell emitting from your water softener. It's important to run a de-rusting agent through your tank from time to time to prevent build-up of iron sediment that could cause your system to work inefficiently.
Can I use potassium chloride in place of salt in my softener?
Yes, you can use potassium chloride in place of salt in a water softening system, which will work in exactly the same way during the ion exchange process.
Potassium chloride is a good sodium alternative if you're looking to watch your salt intake, or you're on a low sodium diet. Your system works smartly in that it can't tell the difference between salt and potassium chloride, making potassium chloride an effective alternative for softening.
Be aware that salt is more efficient at removing magnesium and calcium from water, so it's worth moving your hardness setting up by 20%, to allow more potassium chloride solution to be used to offer the same level of performance.
What is the difference between water softener and reverse osmosis systems?
The main difference between a water softener and an RO system is its purpose. While water softeners are only intended to remove hard water-causing minerals from water, reverse osmosis systems are designed to eliminate hard water-causing minerals and up to 99% of all contaminants from water, including lead, arsenic, chlorine and bacteria.
Reverse osmosis systems are also structured differently to water softeners. They're salt free in design, and usually contain a number of filters for eliminating contaminants, as well as a reverse osmosis membrane.
You should look into getting an RO system if you'd prefer to thoroughly cleanse your water of all impurities. But if you're just looking to reap the benefits of soft water, a water softener will do the job perfectly capably.
💭 Final Thoughts: Water Softening Systems
There's certainly a lot to consider if you're looking to use water softeners for your home. Knowing your options is the easiest way to narrow down a choice based on your water softening requirements.
Before you make a purchase, be sure to spend some time researching the product you're interested in and take care when checking out variations, and reading through reviews. Keep in mind the features that are most important to you, and don't forget about the practicalities, like capacity, cost and upkeep.